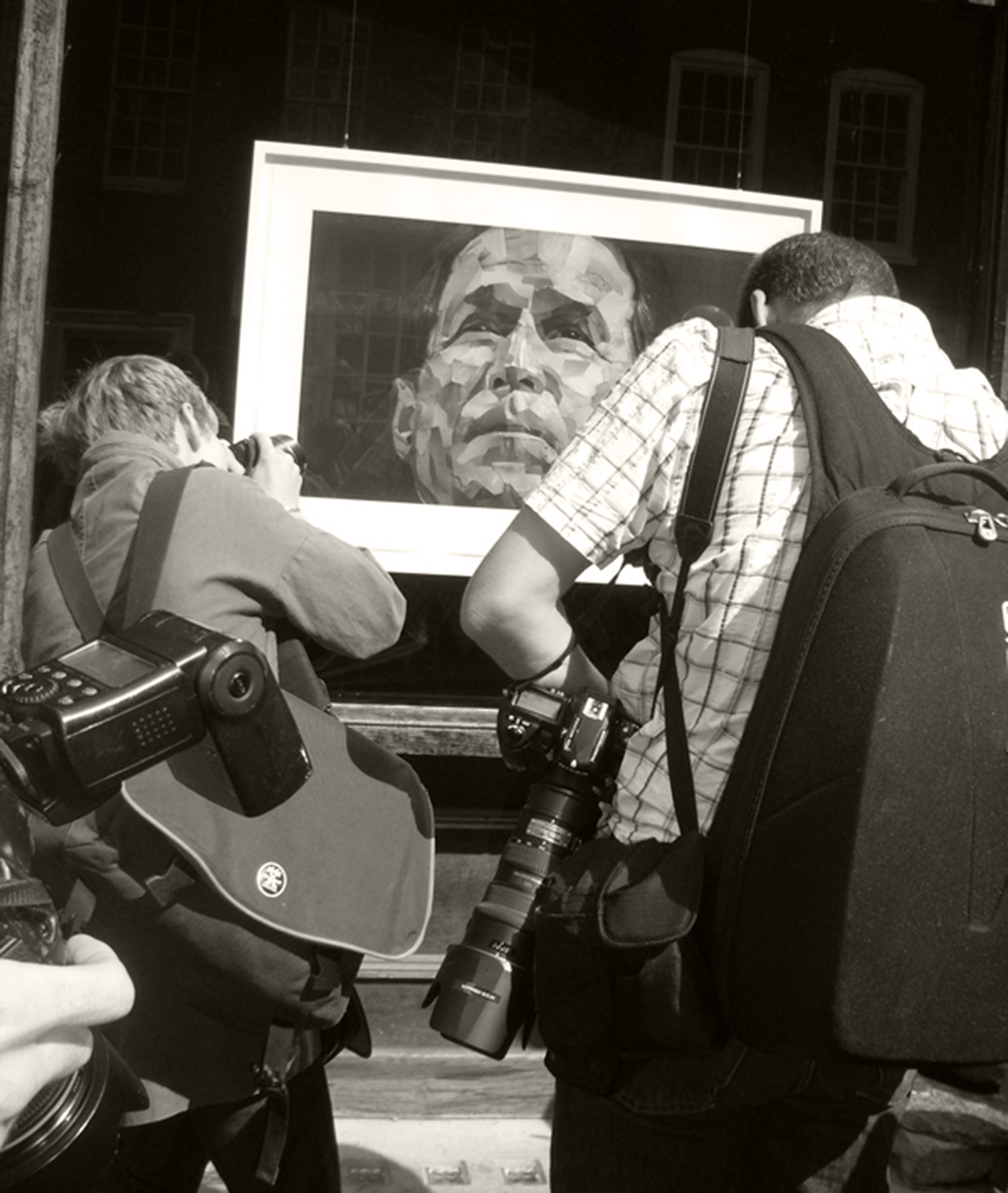 Jonathan Yeo Goes From Porn to Politics
2010
He may be best known as an expressive portrait artist — his painting of David Cameron has just been auctioned for £200,000 at a Tory party fundraiser — and he may have a rising profile as a provocative collagist. But Jonathan's Yeo's most recent production — a chocolate-brown and pink floral bouquet wallpaper — wouldn't look out of place in your great-aunt's bedroom.
"I'm more interested in characters than manifestos" , Jonathan Yeo.
Except, on closer inspection, you see that Yeo, 39, has employed again a technique first seen in his picture of George Bush; cutting up and collaging cheap pornography to spice up the seemingly innocuous. What appear at a cursory glance to be stamens and tendrils turn out on closer inspection to be intimate and hirsute parts of the female anatomy. And if you wonder whether the diners at the newly opened Dean Street Townhouse, where the wallpaper adorns the restaurant, want that when they're struggling with their clams, Yeo replies chirpily: "Nobody who didn't have it pointed out has been upset so far."
Actually, it's a wonder that Yeo — chunky pullover, flowing scarf and still impish face, despite a two-day growth — can find the time for wallpaper. He has commissions to fulfil: Michael Parkinson for the National Portrait Gallery, and Kevin Spacey for the Old Vic. He has an exhibition of new collages scheduled for May in Los Angeles. He's on the judges' panel for this year's £100,000 Art Fund Prize. Surely he has enough on his plate depicting the great and good without diversifying into interior decorating and art curating? "Yes," he admits. "I have been spreading myself a little too thin."
Well, they say if you want something doing, ask a busy man. And boy, has Yeo been busy. Since he took up painting seriously in 1992, he has not only established himself as one of Britain's leading portraitists — refreshing a genre that, with the exception of Lucian Freud's masterpieces, had become rather tired — but has also gained the respect of the BritArt mob.
If price is a guide to talent, then his tag of £60,000 - £100,000, depending on size, speaks for itself. "I assume £200,000 must easily be a record for a politician before becoming PM?" he says of the Cameron portrait.
Likewise — and "a hazard of this job is that it makes you a bit of a name-dropper" — his client list. While claiming the scalps of everyone from Prince Philip to Grayson Perry and Rupert Murdoch to Erin O'Connor (not to mention Dennis Hopper, Nicole Kidman and David Walliams) he has attracted critical notice for his political portrayals: the world-weary Blair, wearing his poppy like a blood stain, for example, or the triptych of the three party leaders at the 2001 election, sized according to their proportion of the vote.
Talented, sociable, clever, charming — is Yeo too good to be true? Can you get so far without being an operator? He says he learned to "argue any point of view" at the knee of his father, Conservative MP and ex-minister Tim Yeo. But if he was also trained in the dark arts of dissembling, then he is a credit to his teacher. He certainly won't be drawn on his politics, saying, "I don't participate through voting".
Not that he's trying to make statements through his pictures, either. "I'm more interested in characters than manifestos," says Yeo — and their characteristics. David Cameron, whose portrait, in casual mode, hands in pockets, was bought at Battersea Revolution to swell Tory coffers ahead of the election campaign, was, Yeo remembers, always "taking time out to sit quietly and think or read a book — a kind of a meditation almost".
And Tony Blair "seemed to need constant stimulus. I can't recall a moment when he wasn't doing something or talking to people. Also, he seemed to always know which way to face for the light to look good on him; a bit like a Hollywood leading lady."
However, Yeo does admit that he found Cameron — whom he painted "almost as a work in progress, because that's what he is"— an impressive politician: "Like everyone else, I have no idea what his policies are — but that's what you'd expect from a successful opposition leader. What I do know is that he's happy in his own skin. He doesn't have any of the insecurity that drives a lot of other politicians. So if he isn't trying to please too many people, he could get a lot done."
With Blair, by contrast, "you realise that he just doesn't do confrontation, he can't say no face to face". And as for that poppy: "I felt the picture needed to acknowledge that he would be remembered for his foreign policy, which no one would have guessed at the beginning of his term. Any other significance that you bring to it depends on your point of view."
The Guardian actually thought the paper flower made the work rather craven — but that's critics for you. Yeo has also raised hackles at the Royal Society of Portrait Painters by unveiling a nude diptych of the gay entrepreneur Ivan Massow. "But it seems," he says, "that whenever I've had an ambition, something has come along to make it happen." Not least a life-threatening illness.

In the late Eighties, Yeo temporarily abandoned his childhood desire to paint because "apart from the Slade, almost no one was teaching it". He enrolled on a film course instead, and in his final year was "coasting, really" when his life hit the rocks. While his father was caught with his trousers down in the middle of John Major's "Back to Basics" campaign — bringing Fleet Street to the minister's doorstep — Yeo was diagnosed with lymphatic cancer, necessitating a gruelling year of radio- and chemotherapy.
"I thought, I didn't sign up for life just for it to end in my twenties', and that acted as a wake-up call. I decided I was going to be a painter, however much those with my best interests at heart advised against it."
At the time, pickled sharks were all the rage, "but there's something perverse in my nature, and although it wasn't a strategy, I was sort of conscious that portraiture — which had generally become very backward-looking and Old Mastery — was an open goal. I could see huge possibilities for it."

In 1994, through an introduction from his embattled father, Yeo got to paint the civil rights campaigner Archbishop Trevor Huddleston. One commission led to another and by the end of the decade he was ensconced in a little studio above Marco Pierre White's Quo Vadis restaurant, working on a portrait of the fiery chef: "That was a running joke, it took two years to produce a tiny picture." Meanwhile, Yeo got to know his then-partner in the restaurant, Damien Hirst — who would give him the ultimate imprimatur of cool in 2008, when he bought his Paris Hilton picture made from porn.